LEXINGTON, Ky. (RNS) — After more than two weeks and worldwide headlines, revival services at Asbury University in central Kentucky came to an end recently.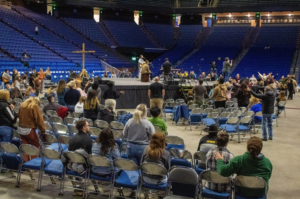 But the revival goes on off-campus.
On Sunday (Feb. 26), Minneapolis-based evangelist Nick Hall brought an Asbury-inspired revival event to Rupp Arena in Lexington, Kentucky, about half an hour from the Christian school's campus.
Hall is the leader of Pulse, a ministry that aims to bring "Jesus to the next generation" by hosting big events. He attended the Asbury revival in its first week and said he was overwhelmed by what God was doing.
After the Asbury revival started spontaneously on Feb. 8, the university officially ended revival services on Feb. 23... More here.